Namibia Soccer

News Report
Own-goal sinks Warriors
Author: LIMBA MUPETAMI, 22/06/19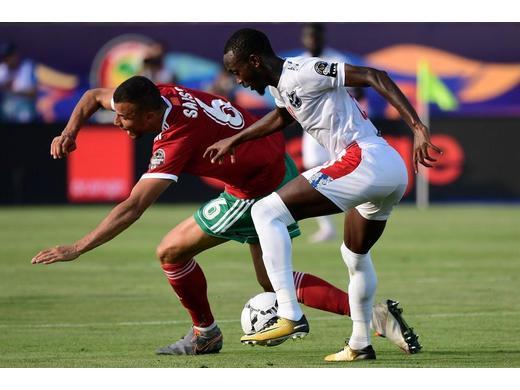 The Africa Cup of Nations Group D match between Namibia and Morocco ended 1-0 after Itamunua Keimuine headed in an own-goal from a free kick by Hakim Ziyech.
The Namibians were on par with favourites Morocco for the duration of the match, keeping them grounded in the first and second half, keeping their form and not allowing the Moroccans to penetrate their backline.
However, an 87th minute foul by Keimune cost them a chance at a goalless draw.
In the first half both teams tested each other with no genuine attempts from both sides until the 8th minute when a shot was brushed out by Loydt Kazapua who was excellent for the Namibians in goal.
More attempts came from the Moroccans in the first half but they did not bother Kazapua.
In the second half in the 48th minute, Absalom Iimbondi crossed a ball into the box however Peter Shalulile could not reach it in time to connect.
In the 63rd minute Ricardo Mannetti brought in Marcel Papama to replace Manfred Starke. Namibia then started playing more freely and started attacking Morocco's defence more.
In the 78th minute Keimune came in for Iimbondi, followed by Awillo Stephanus who joined the fray for Deon Hotto in the 86th minute.
It looked like the match was heading for a draw until an own-goal ended affairs for both sides.
Two years ago the Moroccans were beaten in the quarterfinals of this competition; their first win against Namibia sets them on the right path.
However, they have to get through Ivory Coast on Friday as well as South Africa on 1 July.
The Namibians will now face South Africa in their second encounter on Friday, followed by a third match against Ivory Coast on 1 July.