Namibia Soccer

News Report
Moment of truth
Author: Jesse Jackson Kauraisa, 18/06/19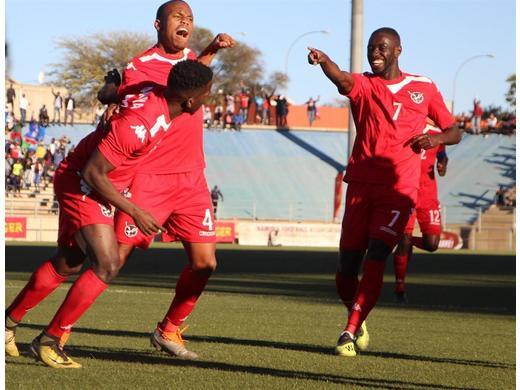 Brave Warriors coach Ricardo Mannetti has confirmed there will be no further friendly matches for the team ahead of Afcon 2019.
Namibia was initially scheduled to play two friendly matches before the start of the tournament.
The Warriors played Ghana on 9 June and were expected to play another team before the competition begins on Friday.
"I can confirm that we will play no other friendly as planned due to time. We are happy with our preparations that started in South Africa and in Dubai," Mannetti said.
"The technical team is happy with the responses from the players and I can say we are ready as we travel to Egypt today."
Attacking player Willy Stephanus is said to be the only player who picked up a knock during preparations for the continental showpiece, but the coach is confident he will recover.
"Awillo has a small muscle injury but he will definitely be available for selection against Morocco. All in all, the players appear very fit and the spirit in the camp is out of this world.
"As a technical team, we have done the best we could and we are optimistic that the boys will not disappoint us," Mannetti added.
Namibia have a mountain, after being drawn in Group D against Bafana Bafana, Ivory Coast and Morocco.
This will be the first 24-team Afcon - up from 16 - and will be hosted until 19 July.
The six group winners and six runners-up automatically qualify for the knockout stages and will be joined by the four best third-placed teams.
After the eight second-round fixtures, there will be the quarterfinals, semi-finals, a third-place play-off and the final.
Namibia will kick off their tournament against Morocco on Sunday, 23 June. They will play their second match against neighbours South Africa on 28 June before closing off their group encounters with a match against Côte d'Ivoire on 1 July.
Namibia are seeking their first-ever win in the competition after having failed on two occasions - in 1998 and 2008 - to secure a victory.
Group D is nearly a repetition of the 1998 Afcon tournament in Burkina Faso, when Namibia were drawn against Côte d'Ivoire, South African and Angola.
In 1998, Namibia finished at the bottom of the table with only one point from three matches, as Côte d'Ivoire and South Africa topped the group.
In 2008, Namibia also finished at the bottom of their group, which included Ghana, Guinea and Morocco.
Namibia's only two Afcon points came via draws against Angola (1998) and Guinea (2008).
Cameroon are the defending champions after winning the 2017 final against Egypt 2-1, courtesy of goals from Nikolas Nkoulou and Vincent Aboukabar.
Only Congo (1968), South Africa (1996) and Zambia (2012) have been able to bring the trophy to southern Africa.