Namibia Soccer

News Report
Ketjijere hangs up Warriors' boots
Author: LIMBA MUPETAMI, 15/07/19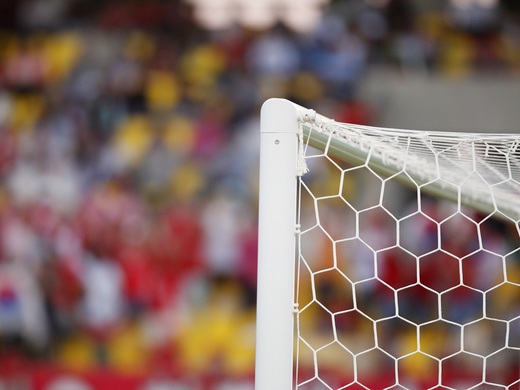 Their Afcon 2019 clash against Ivory Coast at Afcon was the last time Brave Warriors midfielder and captain, Ronald Ketjijere, represented his country.
The 31-year Ketjijere announced that his days as captain of the national team have come to an end and he will now concentrate on playing club football for African Stars.
He wants to spend time with his family, focus on his career and farm.
"I want to spend time counting my cattle. I used to go to the farm occasionally, but now I can do that more, count my cattle and spend time with my wife and kids in peace," he said.
Ketjijere was born in Okakarara and is Namibia's most capped player, with 73 appearances for the national team. He has also excelled academically, having studied law at the University of Namibia and then continuing his studies at the University of Pretoria, for whom he also played in the Premier Soccer League (PSL).
He is arguably also the country's most successful skipper to date, having led the Brave Warriors to their first-ever international triumph, when they clinched the 2015 Cosafa Castle Cup.
But before all this came to be, Ketjijere started off playing for Unam in the Khomas second division and helped the team gain promotion to the Southern Stream First Division in 2008.
After that he was snatched up by African Stars to play in the Namibia Premier league (NPL).
In his first season, Ketjijere won the MTC premiership and the Leo NFA Cup, both in the 2009/10 season.
In 2011, the midfielder made his debut for the Warriors against The Flames of Malawi. Namibia narrowly lost 1-2 in Windhoek. Since then, Ketjijere never looked back and was later given the captain's armband.
His inspiring performances and hard work did not go unnoticed, as he then signed a professional contract with University of Pretoria for the 2012/13 season.
Ketjijere has now stepped down and assessed the Warriors' performance at Afcon 2019, saying the experience was one to cherish.
"The team is fairly young and I really wish that those who were there learnt a thing or two; the only thing that set us apart from our three opponents in Group D was that they have more class. They had the upper-hand.
"We planned very well defensively against Morocco. We had few chances on attack or corners, but we defended well. The only problem we experienced was the mistakes we made from set-pieces; the team needs to work on that," he said.
"When we played South Africa and Ivory Coast, we played more open football. With Ivory Coast we had a chance to even score and change the dynamics of the game, but the finishing killed us in the end, as we did not come to the party."
Ketjijere said the players need to work on small factors, in order to improve their play. "The players need to compete with arrogance, and then be patient in the build-up. Most of the time the forwards are in a rush to get the job done. And then we either execute poorly or lose the ball altogether.
"With the match against the Ivoirians we had the upper-hand, pushing them back, but we failed to put the ball away. But it was a great learning curve," added Ketjijere.

Standout moments
He added that matching the powerhouses of African football, and one day defeating them, is not a far-fetched dream, Namibia can play more friendlies against top sides.
He lauded goalkeeper Loydt Kazapua for being outstanding at Afcon 2019.
"He really executed his tasks well. He stood firm. Also, the defence was also solid for the first two matches, but I will not to take anything away from the players - everyone played their part well."

The future
Ketjijere said head coach Ricardo Mannetti's contract coming to an end and with Ronny Kanalelo having also left the national set-up, it might disrupt the flow and teambuilding.
"The technical side might be dissolved, as Mannetti's contract might not be renewed, and with Kanalelo leaving, I don't know what will happen to the squad and the continuity.
"One doesn't know the philosophy of whoever takes over the squad. One also doesn't know who he would want to keep or let go."
Asked if he would one day like to venture into coaching or be part of the management of the Warriors, Ketjijere said "no".
"I don't want to do either. Once I'm done with something, I completely wash my hands.
"I will, however, savour the moments spend playing with the Warriors. But I will create more memories at Stars, where I plan to play for two more seasons.
"Even though at times people used to insult me for not tackling my opponents - I mean, anyone who understands football should know that the purpose of tackling is to win the ball - but if I can do it while staying on my feet, or if I can use my head, what is the purpose of still tackling," he said while chuckling.
He added his position is very critical, as one has to be aware of what is happening at all times. "You have to have top-notch awareness skills. You need to be able to initiate attacks and also know when to redirect the match. I'm sure whoever fills that spot will step up to the responsibility."
Ketjijere further advised his teammates to use their finances well. "Whatever you earn at club level or in the national team, invest it wisely. Also, work on your attitude on and off the field. "Alcohol and sport doesn't gel well. Don't wait till you are called up to work on your fitness. Work on your fitness and be ready when your time comes," Ketjijere added.